Thanks to the cooperation with the Italian Institute of Culture in Tirana, the exhibition "Modellare l'acqua"/ "Shaping the water" by the artist Mario Airò, curated by Simone Ciglia (Simone Çilia), is exhibited for the first time in the Bazament Art Space, during 27th of February – 22nd of March 2020. The work "Modellare l'acqua"/ "Shaping the water" is a project created and promoted by Malvina Menegaz Foundation in Castelbasso and realized thanks to the support of the Italian Council of the General Directorate for Contemporary Creativity in the Ministry of Heritage, Cultural Activity and Tourism.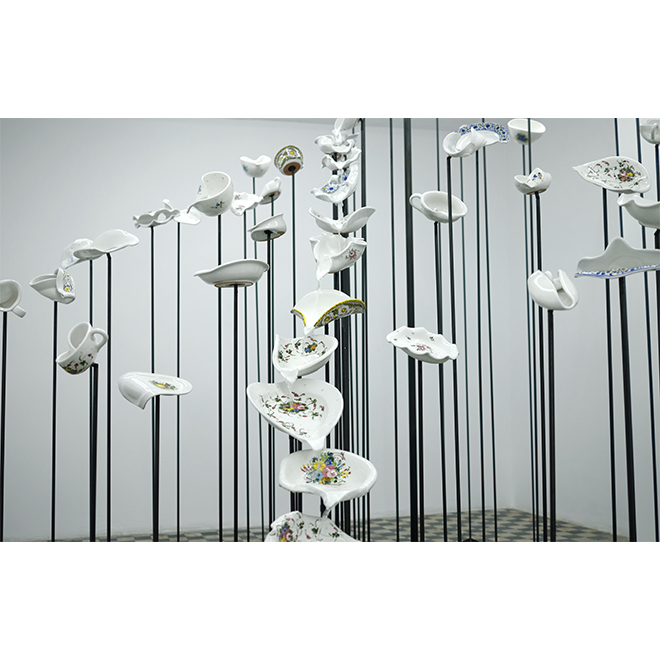 The work in question is the second chapter of a study on the contemporary possibilities of the artisan tradition, which embodies one of the lines followed by the Malvina Menegaz Foundation program in Castelbasso. The project was born during the residence of artist Mario Airò in Castelli (TE), the historic center of majolica production in Italy.
At the heart of this water shaping, lies the fascination with the natural world and the phenomena associated with water. Under contemporary inspiration, the artist has created an installation that refines the theme of the source, shaping, through poetic inspiration, the river bed. The installation reminds you the shape of the river bed, divided into individual elements, consisting of ceramic archetypes from Castelli (plates, cups, jugs), in a suspended and acrobatic composition that is poetically related to the theme of the source. The forms of pottery, as a kind of environmental installation, serve to create the natural flow of water in the form of a fountain.
The aquatic paradigm is symbolically used in Mario Airò's work. It aims to restore a space/state, which stimulates active contemplation. The artist's interventions are mainly done with intent to evoke strong emotional feelings to the viewer. They subtly stimulate/seduce the transformation of the exhibition into a comprehensive environment, in a space where thoughts try to touch upon continuous perfection.
The work will be part of the collection of the Faenza International Museum of Ceramics, the largest Italian institution in the sector.
* Mario Airò was born in Pavia in 1961. He studied in Milan with Luciano Fabro and, in the mid 90s he opened, with other artists, a self-managed space at Via Lazzaro Palazzi. In 1997 he took part at the 47th Venice Biennale, at the Moscow Biennale of Contemporary Art, Moscow and in 2005 at the Kwangju Biennale. He has been the subject of many solo exhibitions and his work has been featured in group exhibitions at numerous institutions worldwide, including GAM, Turin; Kunsthalle, Lophem; Palazzo della Triennale, Milan; Galleria Nazionale di Parma-Palazzo della Pilotta; Museo d'Arte Contemporanea Villa Croce, Genova. His works have been shown, among others, at Castello di Rivoli, at Museum of Contemporary Art Tokyo and at S.M.A.K. Ghent. Airò's work is in the collections of many institutions, including MAXXI Roma, Castello di Rivoli, GNAM Roma, MAMbo Bologna, Museion Bolzano. He currently lives and works in Milan.