On the 9th of June, 2021, Harabel Contemporary Art Platform met with the artist – activist Alketa Xhafa Mripa at the space of Reja, on the occasion of the Cloud Festival 5. In the presence of the visitors and a group of journalism students, they promoted and then discussed the book "Vepra e saj".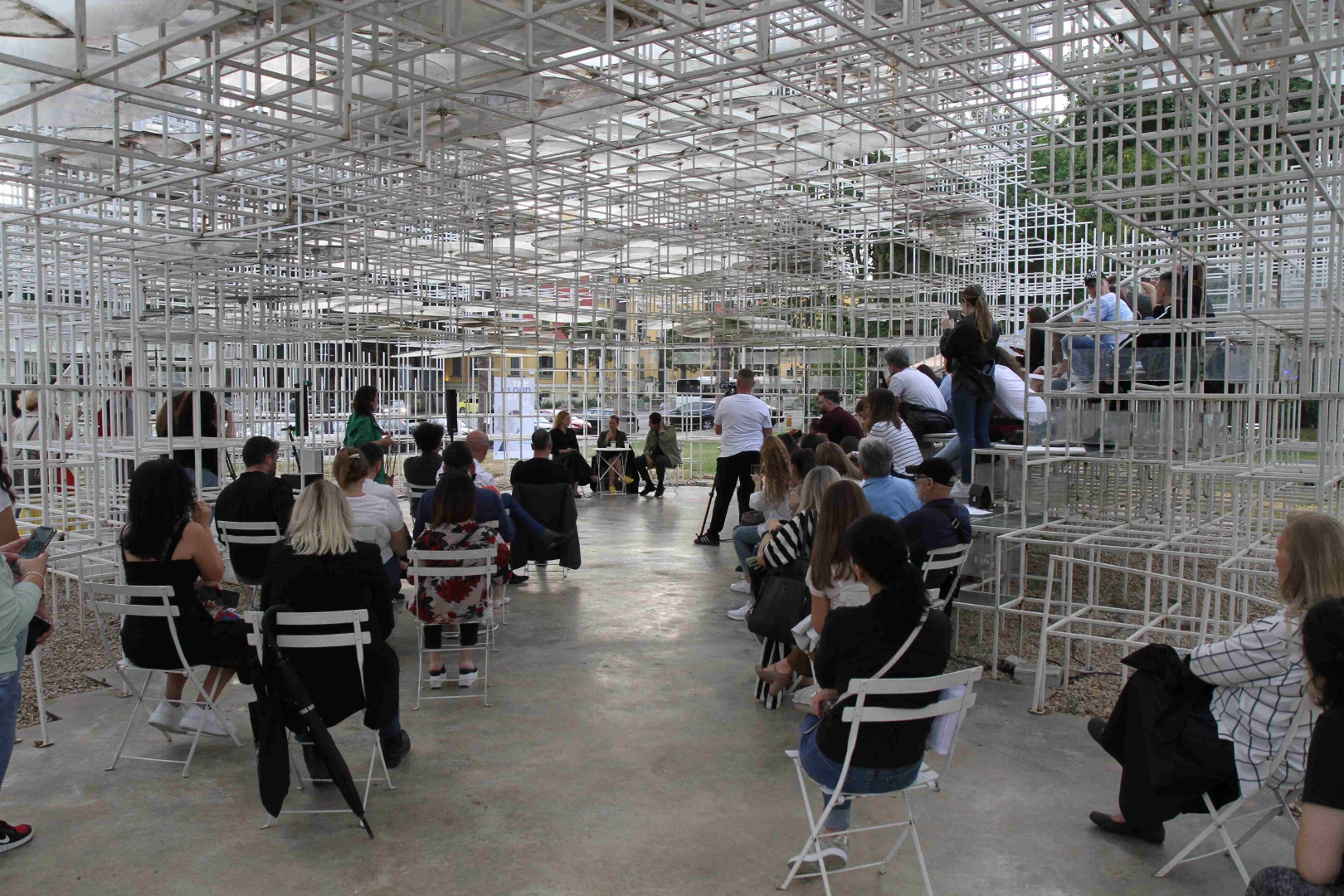 The Talk was initiated by a series of questions addressed to Alketa by Harabel, regarding the role of contemporary art in society. According to Alketa art is more and more responsible for dealing with big issues, it is socially engaged. These issues do not only pertain to art, but they include politics and economics as well. During her career, Alketa Xhafa Mripa has been engaged in multiple activisms. Her work focuses on human rights, women's rights and gender equality, migration and national identity.
Her conviction that art should involve activism in it derives from about 15 years of experience on social awareness through artistic expression. The artist and the human  are not two separate entities, but two balanced roles within the human being. Alketa is at the same time an artist and an activist, as well as an artist and a mother. Art lives in symbiosis with the need of being active in the society. More than a conscious act, this self-generated behavior utilizes the way art gives the community a space to express itself.
Alketa's career is often focused on women, their independence and freedom. Her family consists mainly of females, and yet it was her father who most influenced Alketa's ideas on art and feminism. In this talk, she states that her approach to feminism is expressed in two forms. Initially, Alketa aspires to influence the improvement of women's position by taking discriminatory elements, such as motherhood, and turning them into strength. Second, taboos are often put in the spotlight of her works. According to Alketa, the mentality where these taboos come to life and exist must be challenged in order to get rid of them.
"Vepra e saj" deals with the stories of 100 Kosovan women, who have been pioneers in various professional fields. The book took shape through a conversation between Alketa and her daughter, regarding women who have brought changes into the world. While not having an answer after being asked by her daughter if there were any women who brought changes in Kosovo, Alketa had the idea of making a research on these women and give a voice to their role in the society. It's very common for "His work" (vepra e tij) to be frequently mentioned in the society, referring to male artists who left their mark. Similarly, but in the opposite direction, "Vepra e saj" (her work) serves as a recognition of a contribution already given by women.
"Vepra e saj" was well received by students and families, and despite the fact that Alketa is not a writer, it was created while keeping in mind the new generations and their need to know the history. Alketa hopes that little girls will find themselves in the women mentioned in it and their professions, as they are various. The book was created in collaboration with other artists. Next to each woman there is a painting of them, made by painters or art students, based on their pictures and the information about them. The texts are enriched with information collected from the women's relatives.
A project similar to "Vepra e saj" is expected to come to Tirana in the form of a public installation. Alketa is engaged in the identification and the research over 100 Albanian women that had a pioneering role in relevant fields, from the twentieth century until today. The participating audience at the Cloud (Reja) and the readers of Harabel blog are welcome to suggest names for the enrichment of this research during the next three months.
*Born and raised in Kosovo, Alketa moved to London in 1997 to study Fine Art at Central Saint Martins. Arriving as a student, Alketa became a refugee when the 1998-1999 Kosovo war broke out.
Since then, she has displayed her multi-faceted work in exhibitions across Europe including Germany, France, UK, Italy, Portugal, Austria and her native Kosovo, where she gained wider recognition for her art installation 'Thinking of You' in 2015.
Collaboration and participation are also essential to Alketa's work. Involving other communities and people in general is always important for her and she believes her art has more passion when others are involved. She says where language fails, art can break through.
Alketa currently lives in London working across art projects both in Europe and worldwide continuing to fight for equality, justice and difference.